The heck with florals, animals, leaves, or swirls – these coloring pages are loaded with designs created from
sexual body parts

,

sexy attire

and

sex toys

!

There's no doubt sex can be fun and joyous and lead to a relaxed state of mind and body. Celebrate it, indulge yourself and let your imagination explode within these coloring pages.

Finally, some exciting adult coloring action with lots to color. Skip the pages and pages of skin tone, or bland figures, or anime. Get real, get hot. How well do you know the various sex toys… can you pick them out? Bring on your wild side while you color and finish your coloring session with a relaxing glow.

Here's an example of the naughty sexiness you'll find inside each and every "Adult" Adult Coloring book…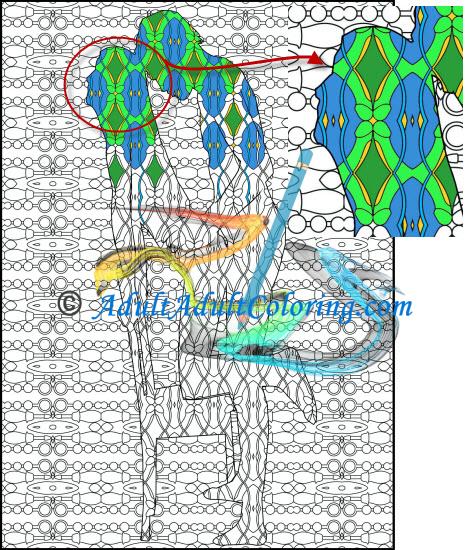 This sample is from Hidden Love Positions. Each sexual position has a coloring design inside the sexual position and another design surrounding them giving you more to color and creating a challenge to find the sexual position. (There are "cheat sheets' of the positions in the back of the book.)
If you're looking for something a little easier check out Love Positions. This book includes the sexual positions (with different designs) without the surrounding designs so they are easier to see.
Love the designs filled with sexual body parts, sex toys and sexy attire but don't want the sexual positions? Go for Sex-y Patterns. Lots of naughty coloring for you here.
Are you a fan of the circular and relaxing form of mandalas? No worries, we've got you covered with Sex-y Mandalas. Plenty of hot and spicy fun in your favorite mandala format.
Each book includes many unique coloring designs not found in the other books… so if you just can't decide then consider ordering all four books!
Grab your copy today and

Stick Your Pencil In Here

!